---
Prognostic significance and immunotherapeutic potential of the immune checkpoint VISTA in malignant pleural mesothelioma treated with anti-PD-1 monotherapy
Hyun-Sung Lee
1
, Hee-Jin -. Jang
1
, Daniela -. Ramos
1
, Leandria Hosey
1
, Hudson Holmes
1
, Jong Min Choi
1
, Claire Lee
1
, Taylor Splawn
1
, Monica Espinoza
1
, R. Taylor Ripley
1
, Daniel Wang
2
, Bryan Burt
1
1
Surgery , Baylor College of Medicine, Houston, Texas, United States,
2
Medicine, Baylor College of Medicine, Houston, Texas, United States
Objective: V-domain Immunoglobulin Suppressor of T cell activation (VISTA) is a novel immune checkpoint protein that belongs to the B7 family. Recent TCGA analyses revealed that VISTA is highly expressed on malignant pleural mesothelioma (MPM). To investigate the clinical relevance of VISTA in MPM, we characterized VISTA-expressing cell populations in the tumors and blood of patients with MPM and investigated the prognostic significance of VISTA in MPM patients treated PD-1 immune checkpoint blockade.
Methods
Using time-of-flight mass cytometry (CyTOF), we examined the expression of VISTA on cell populations in the tumor-immune microenvironment and peripheral blood mononuclear cells (PBMCs) in six MPM patients who underwent surgery. Imaging mass cytometry (IMC) was performed to investigate associations between VISTA expression and survival in 35 unresectable MPM patients treated with nivolumab or pembrolizumab.
Results
The VISTA protein was expressed on approximately half of all cells in the MPM microenvironment. The highest expression of VISTA was observed on cancer cells but VISTA was also highly expressed on tumor-associated macrophages (TAM), T cells, and NK cells (Figure 1A-1C). Deep phenotyping of tumor-infiltrating T cells revealed that VISTA was predominantly expressed on regulatory T cells (Treg), naive CD8 T cells, and CD8 and CD4 central memory T cells (Figure 1D). Among circulating immune cells, VISTA was overexpressed on Treg and monocytes (Figure 1E). In a cohort of 35 MPM patients treated with PD-1 blockade, 20 tumors (57%) contained 50% or more VISTA-expressing cancer cells, and there was a tendency for higher VISTA expression in tumors of epithelial histology (P=0.051). VISTA expression was not associated with tumor PD-L1 expression (P=0.694). Patients with high VISTA expression on tumor cells had significantly shorter overall survival (11 vs. 26 months, P=0.02) and progression-free survival (4 vs. 16 months, P=0.038) (Figure 1F).
Conclusions
VISTA is a novel immune checkpoint whose expression on MPM tumor cells is associated with resistance to PD-1 immune checkpoint blockade. Our data support an immunoregulatory role of VISTA in MPM that could be potentially targeted with anti-VISTA antibody therapy.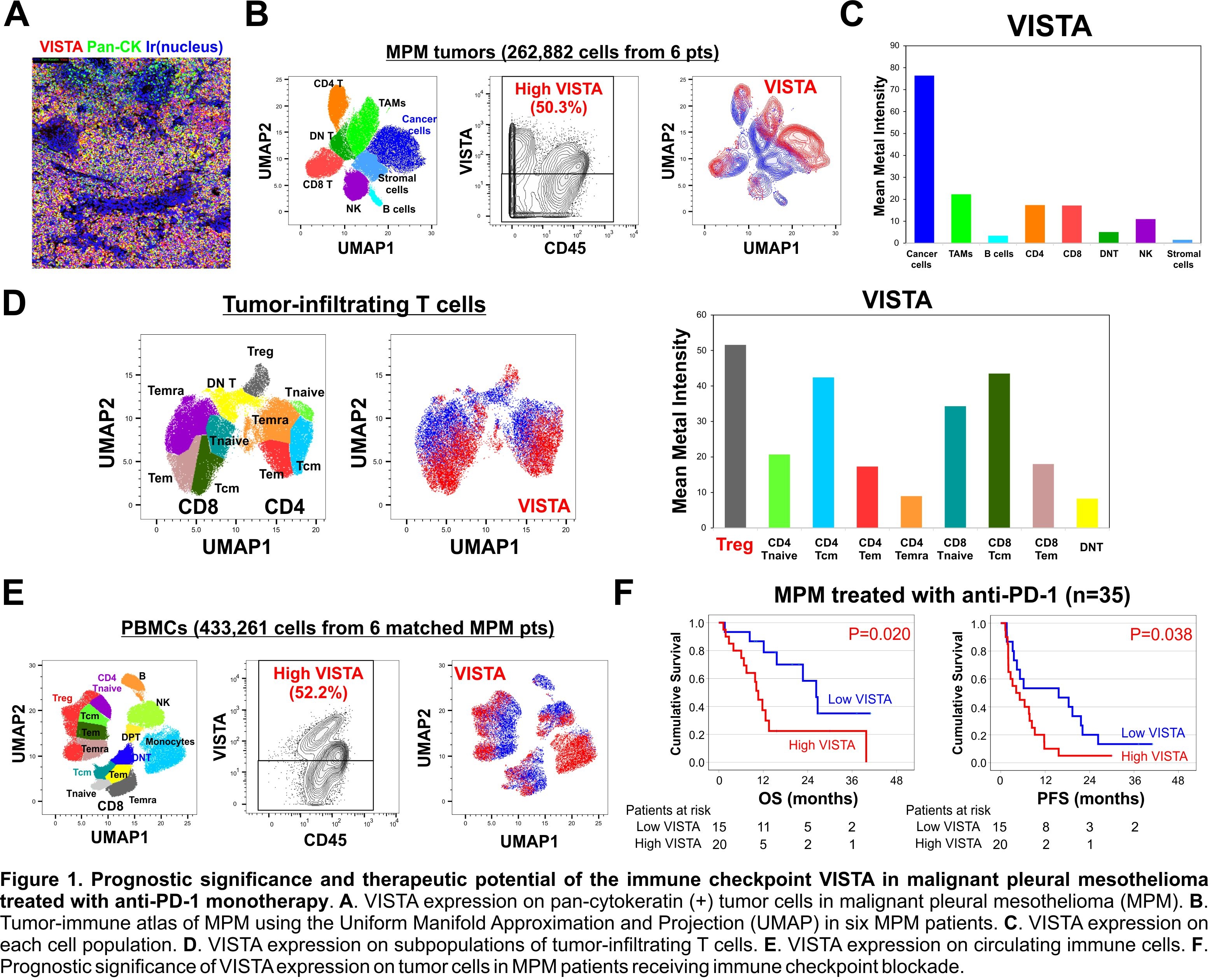 ---
Back to 2022 Abstracts